New Website, New Logo and a New Initiative JPEG Pleno
The Joint Photographic Experts Group (JPEG) is a Working Group of ISO/IEC, the International Organisation for Standardization / International Electrotechnical Commission, (ISO/IEC JTC 1/SC 29/WG 1) and of the International Telecommunication Union (ITU-T SG16), responsible for the popular JPEG, JPEG 2000, JPEG XR, JPSearch and more recently, the JPEG XT, JPEG Systems and JPEG AR families of imaging standards. The WG1 group meets nominally three times a year, in Europe, North America and Asia. The latest meeting was held on October 20-24, 2014 in Strasbourg, France.
WG1 launched its new website on www.jpeg.org. It provides up-to-date information on all its activities and suite of standards, including references to software implementations, publications and specification documents. The website will be actively maintained with regular updates, press releases and the latest news on the committee's activities. The website is developed and hosted by the Vrije Universiteit Brussel-iMinds.
WG 1 presents also a new logo as depicted below. The design concepts of this logo are "soberness" and the "expression of JPEG's main functionality offer: image compression." Masahito Takizawa-san of Takushoku University, Japan designed the logo. The squares represent a digital image and composing pixels. The data compression functionality - while preserving visual quality - is expressed by the transformation a large square into to a smaller-sized. Every JPEG project has its own logo based on this general template. The logos are accessible in the website as a free download along with usage and license conditions. WG 1 will distribute the logo under the Creative Commons license.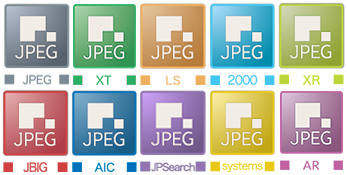 In addition, WG1 is launching a new study activity: JPEG Pleno. Digital photography markets have depicted a steady - somewhat linear - evolution over the last decade as it concerns supported resolutions, mainly driven by Moore's law. In the meanwhile, we have reached the era of nanoelectronics and simultaneously we are observing the maturing of microphotonics and nanophotonics technologies giving rise to an unprecedented, heterogeneous range of digital imaging devices that will influence the digital photography markets.
HDR image sensors, plenoptic and light-field sensing devices, holographic microscopes and advanced microelectromechanical system devices (MEMS) enable new capturing and visualisation perspectives that will finally result in a paradigm shift in the consumption of digital photographic material, i.e. though still static, images will rather be consumed as volumes rather than planar datasets. Computational imaging approaches will facilitate the image capture and manipulation of panoramic images, high-dynamic-range images, images with different perspectives, focus and/or lighting. This paradigm shift will be as disruptive for the photographic markets as the migration from analog film to digital pictures. Hence, JPEG Pleno investigates how this evolution can be properly addressed by WG1 while accounting for JPEG's legacy. WG1 is inviting interested parties to contribute to this effort.
"The road-map for JPEG Pleno follows a path that starts in 2015 and will continue beyond 2020, with the objective of making the same type of impact that the original JPEG format has had on today's digital imaging starting from 20 years ago," said Prof. Touradj Ebrahimi, the new Convener of the JPEG committee.
The next (68th) WG 1 Meeting and its ad hoc group meetings will be held on February 2-6, 2014, in Sydney, Australia. More information about JPEG and its work is available at www.jpeg.org or by contacting Peter Schelkens and Fumitaka Ono of the JPEG PR ad hoc group at pr@jpeg.org.